Apartment

Birch
22 m² – for 2-3 people  
Studio (ground floor) (with a movable wall for separating into two rooms)
Fully furnished cooking corner with fridge, coffee machine, microwave and dishes
Large dining area
Sleeping area with one double-bed (possibility to accommodate one additional bed)
Satellite TV and radio
Shower and WC
Bed linen and bath towels
Grundpreis für 2 Personen pro Apartment / Tag
Winterbeginn
21.11. – 22.12.
€ 58
 
Märzsonne
09.03. –13.04.
€ 58
Weihnachten
22.12. – 06.01.
€ 78
 
Frühling
13.04. – 22.06.
€ 58
Winter
06.01.– 14.01.
€ 58
 
Sommer
22.06.  20.07.
€ 68
Biathlon
14.01.– 22.01.
€ 78
 
Hochsommer
20.07.– 31.08.
€ 78
Winterzauber
22.01.– 10.02.
€ 68
 
Spätsommer
31.08.– 14.09.
€ 68
Fasching
10.02. – 17.02.
€ 78
 
Herbst
14.09. – 23.11
€ 58
Winter
17.02. –09.03.
€ 68
 
 
 
Jede weitere Person € 10,00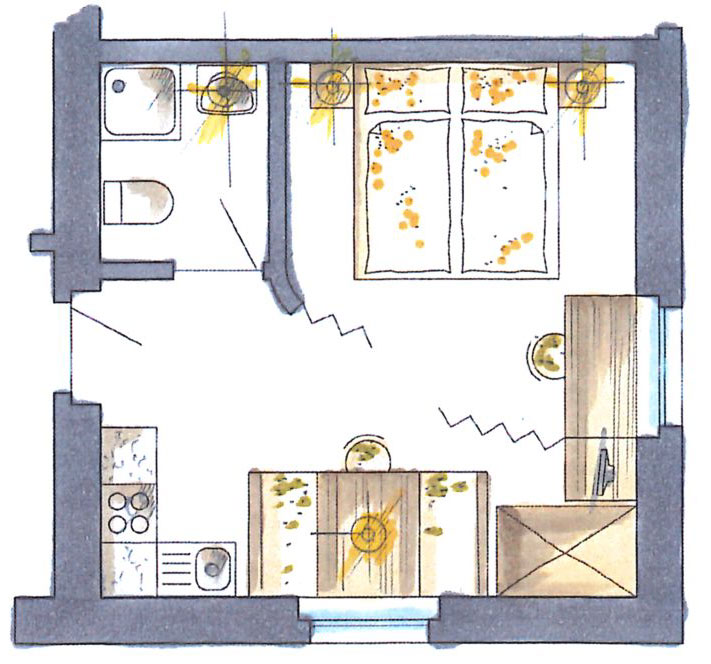 Apartment Spruce
45 m² – for 3-6 people  
Two-room apartment with a balcony facing west
Kitchen with dining table
Fridge, coffee machine, microwave, dishes
Bedroom with one double-bed (possibility to accommodate up to two additional beds)
Living room with one double-bed
Satellite TV and radio
Shower and WC
Bed linen and bath towels
Grundpreis für 4 Personen pro Apartment / Tag
Winterbeginn
21.11.– 22.12.
€  88
 
Märzsonne
09.03. -13.04.
€ 88
Weihnachten
22.12.– 06.01.
€ 138
 
Frühling
13.04. –22.06.
€ 88
Winter
06.01.– 14.01.
€  88
 
Sommer
22.06. -20.07.
€ 108
Biathlon
14.01.– 22.01.
€ 138
 
Hochsommer
20.07.–31.08.
€ 138
Winterzauber
22.01.– 10.02.
€  108
 
Spätsommer
31.08.–14.09.
€ 108
Fasching
10.02. – 17.02.
€ 138
 
Herbst
14.09. – 23.11
€  88
Winter
17.02. –9.03.
€  108
 
 
 
Jede weitere Person € 10,00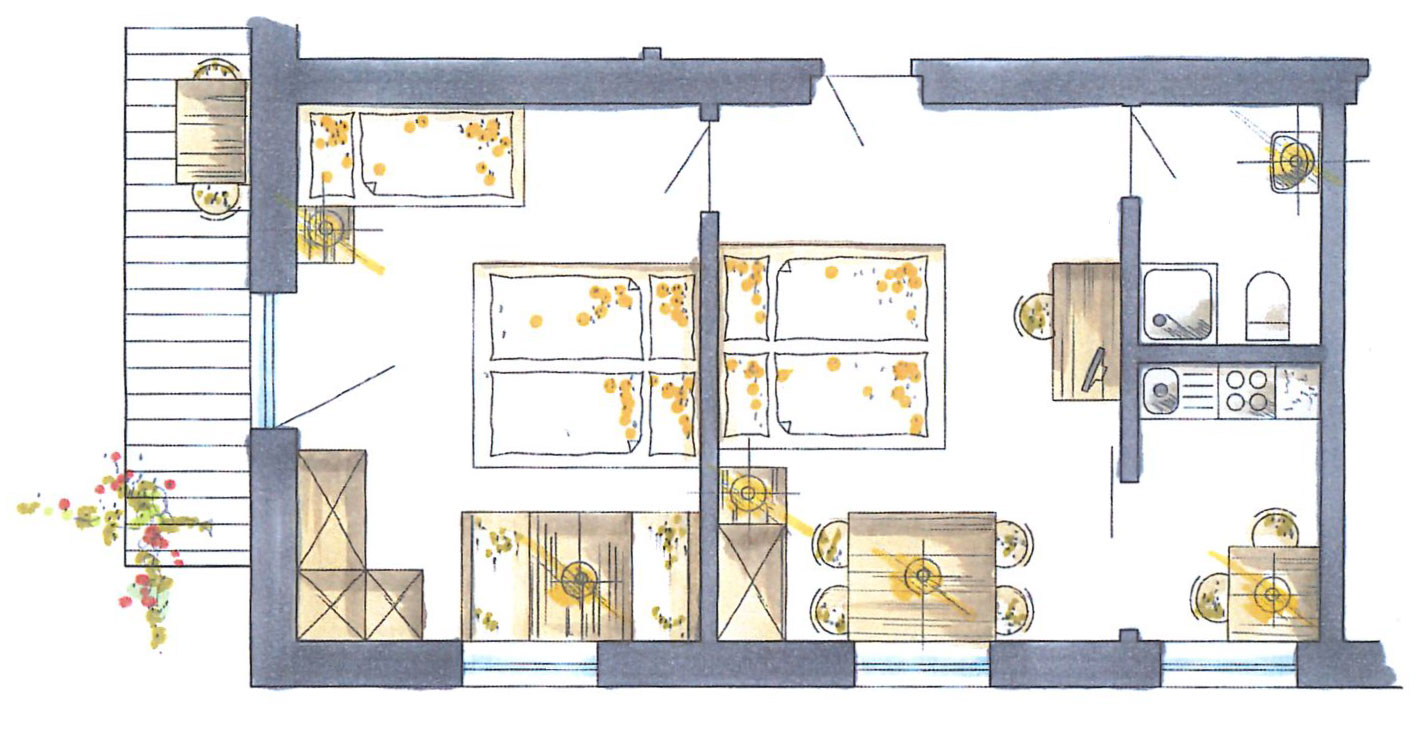 Apartment Larch
31 m² – for 2-4 people  
Studio with balcony facing south  (with a movable wall for separating into two rooms)
Fully furnished cooking corner with fridge, coffee machine, microwave and dishes
Large dining area
Sleeping area with one double-bed (possibility to accommodate up to two additional beds)
Satellite TV and radio
Shower and WC
Bed linen and bath towels
Grundpreis für 2 Personen pro Apartment / Tag
Winterbeginn
21.11.– 23.12.
€ 68
 
Märzsonne
09.03. –13.04.
€ 68
Weihnachten
23.12.– 06.01.
€ 88
 
Frühling
13.04. –22.06.
€ 68
Winter
06.01.– 14.01.
€ 68
 
Sommer
22.06. –20.07.
€ 78
Biathlon
14.01.– 22.01.
€88
 
Hochsommer
20.07.– 31.08.
€88
Winterzauber
22.01.– 10.02.
€ 78
 
Spätsommer
31.08.– 14.09.
€ 78
Fasching
10.02. – 17.02.
€ 88
 
Herbst
14.09. – 23.11
€ 68
Winter
17.02. –09.03.
€ 78
 
 
 
Jede weitere Person € 10,00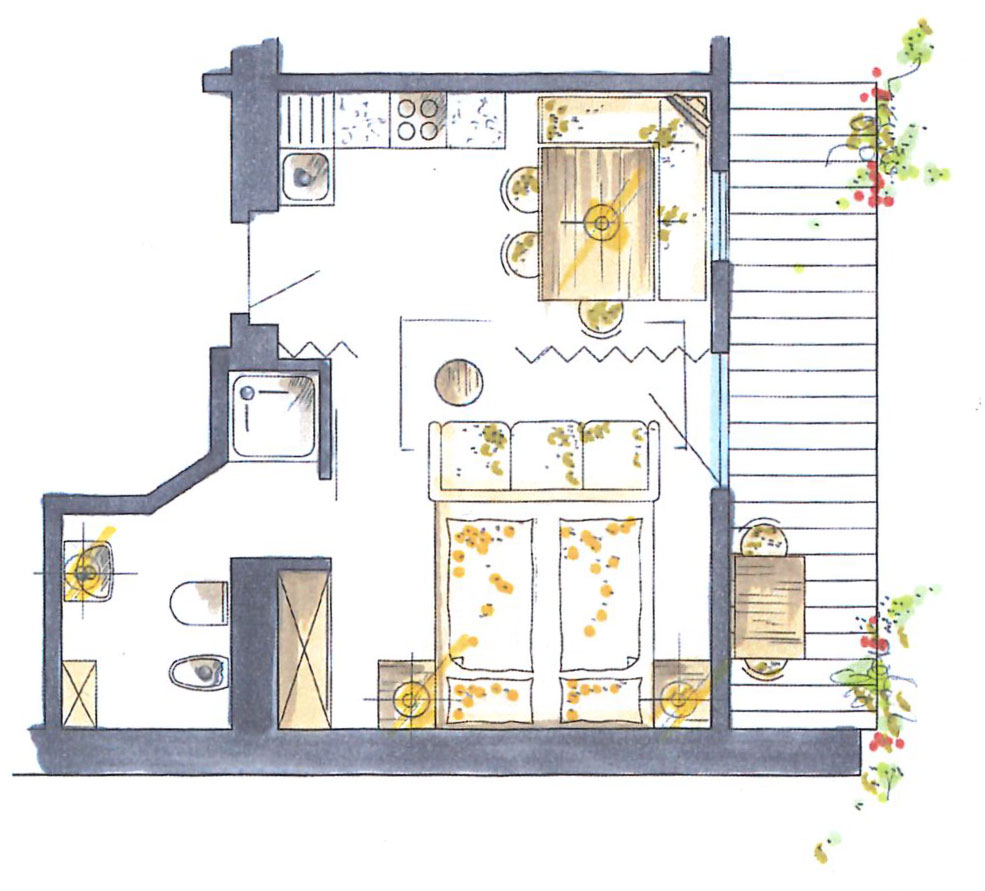 Apartment Stone pine
60 m² – for 3–8 people  
With balcony facing south
Kitchen with dining table
Fridge, coffee machine, microwave and dishes
Two bedrooms, each with one double-bed (possibility to accommodate up to four additional beds)
Satellite TV and radio
Shower and WC
Sink in one of the bedrooms
Bed linen and bath towels
Grundpreis für 4 Personen pro Apartment / Tag
Winterbeginn
21.11. – 22.12.
€  98
 
Märzsonne
09.03. –13.04.
€  98
Weihnachten
22.12. – 06.01.
€ 168
 
Frühling
13.04. –22.06.
€  98
Winter
06.01. – 14.01.
€  98
 
Sommer
22.06. -20.07.
€ 138
Biathlon
14.01 . –22.01.
€ 168
 
Hochsommer
20.07.–31.08.
€ 168
Winterzauber
22.01. – 10.02.
€ 138
 
Spätsommer
31.08.–14.09.
€  98
Fasching
10.02. – 17.02.
€ 168
 
Herbst
14.09. – 23.11.
€  98
Winter
17.02. –09.03.
€ 138
 
 
 
Jede weitere Person € 10,00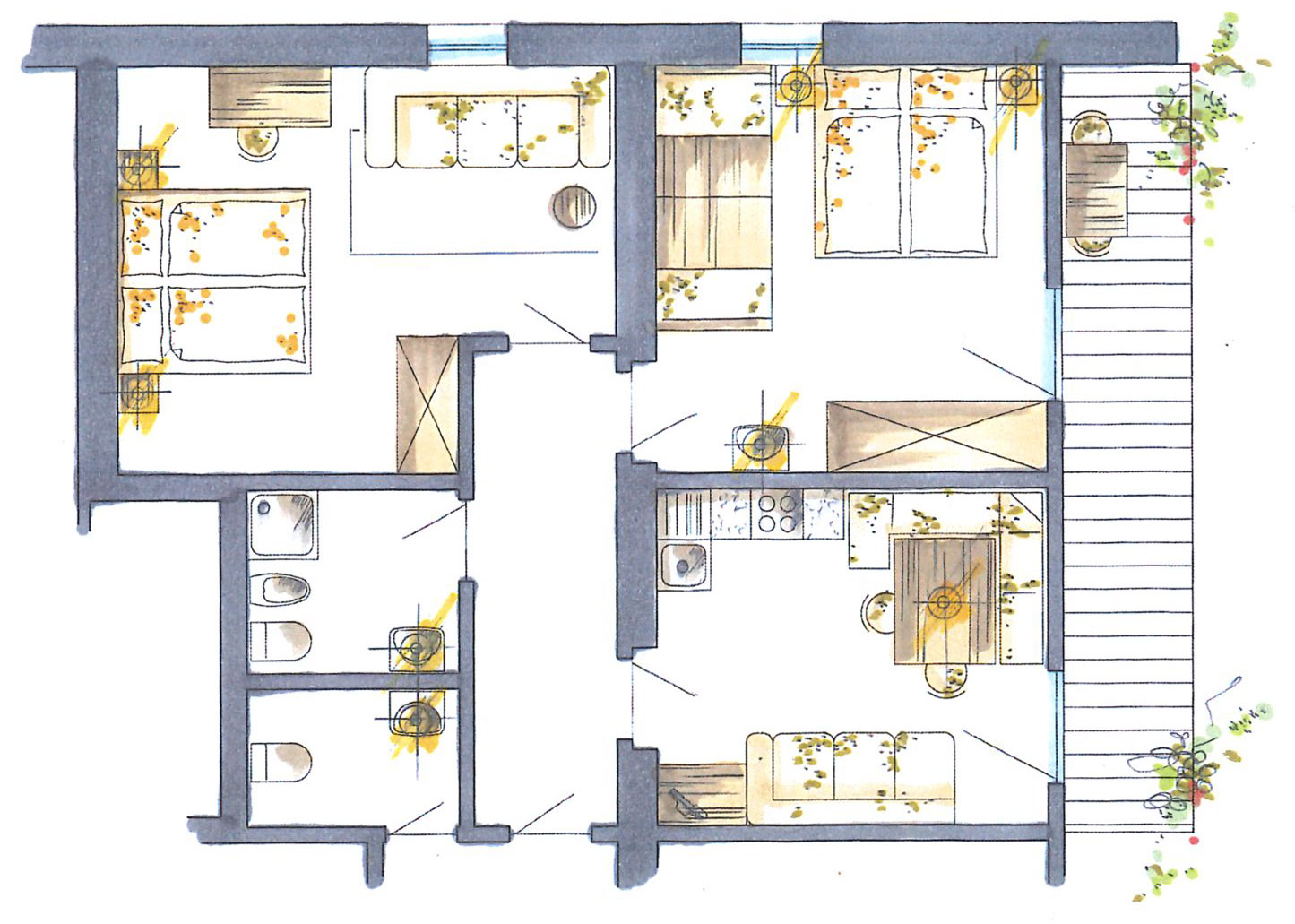 Prices are per day and apartment, additional local tourism tax of € 1,35 per person and day applies, except for children under 14 years of age.
Prices include linen, towels, dishcloths, final cleaning, bread roll service and Wi-Fi access in all holiday apartments.
Please let us know if you have any special apartment preferences. However, for stays under 3 days, we cannot grant you will be allocated the desired apartment.
The holiday apartments are ready for occupancy from 2pm on the day of arrival. Please leave the apartment by 10am on the day of your departure.
Please note: The bill can only be settled in cash, by crossed check and mail or by bank transfer. Payment with credit card or EC card is not possible.
The booking shall become binding on payment of the deposit (€100,00 per week and apartment) and the mailing of the booking confirmation.
Terms of cancellation according to Art. 1382 ZGB Please give us sufficient notice, if you intend to 60 days cancel your vacation. We will try to do our best to help you in the process. Cancellation of your booking up to 30 days before arrival is free of charge. The booking deposit will be credited, but not reimbursed. In case of a delayed arrival or precipitated departure all days will be charged. In case of a later cancellation, we will try our best to re-rent the apartment. If this should not be possible, we need to charge the following percentuals of the total price as compensation: Cancellation 60 days before arrival 40 % Cancellation 30 days before arrival 60% Cancellation 15 days before arrival 80 % Cancellation insurance When booking your stay, we recommend concluding the "Rote Hahn Cancellation Insurance". This covers all cancellations fees and you can look forward to your holidays without any worries.
… see you there!
Apartments Schnapperhof *** Fam. Unteregger Lackenweg 2 Italy – 39030 Oberrasen Tel. +39 0474 496379 info@schnapperhof.com